As soon as the temperature drops, you may feel the need to crank up the heat.
But before you plug in that dusty old space heater this winter, you'll want to follow this safety tip: don't use extension cords and power strips.
"You should never plug a heater into a power strip," Umatilla County Fire District #1 in Hermiston, Oregon, warned on Facebook Monday, posting a photo of a fried multi-outlet to prove their point. "These units are not designed to handle the high current flow needed for a space heater and can overheat or even catch fire due to the added energy flow."
The post went viral with more than 17,000 shares. Hundreds of people commented, some even sharing their own horror stories about space heaters.
"I had a household one catch on fire years ago," one Facebook user said. "Good thing I woke up."
"I never knew this," another commented.
The Toledo Fire Department in Ohio also issued a warning Wednesday after battling a house fire caused by a space heater at 3 a.m. on Tuesday.
The flames erupted after the heater ignited a sofa.
"If you are operating them make sure you're operating them in a safe manner," Sterling Rahe, public information officer with the Toledo Fire Department, told CBS affiliate WTOL. "Make sure there's a space at least a minimum of three feet around that space heater."
Firefighters said heating elements in a space heater can get up to more than 500°F  to 600°F. They reminded residents that a space heater should only be plugged directly into the wall, and always keep an eye on it when it's in use.
"A lot of these fires, kind of have a common theme," said Rahe. "Things were left unattended."
From 2009 to 2013, heating equipment was involved in an estimated 56,000 reported U.S. home fires — accounting for 16 percent of the total, according to the National Fire Protection Association (NFP). In those fires, 470 people died, 1,490 were injured and $1 billion in property damage was reported.
"Nearly half of all home heating fires occurred in December, January and February," the NFP said.
"Space heaters, whether portable or stationary, accounted for two of every five of home heating fires."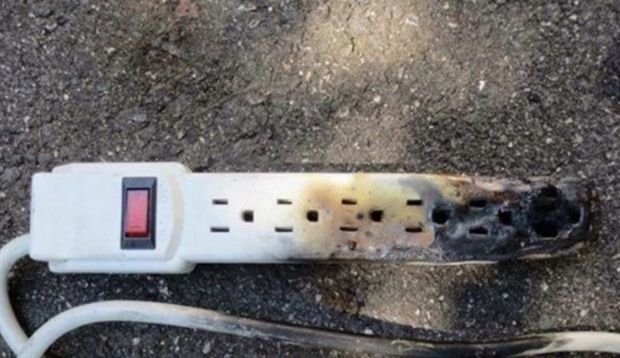 If you're planning on using a space heater this winter, follow these five safety tips from Electrical Safety Foundation International (ESFI):
Turn space heaters off and unplug them when you go to bed or leave the room.
Keep space heaters three feet away from anything that can burn.
Plug space heaters directly into a wall outlet. Do not use an extension cord or power strip, which could overheat and result in a fire. Do not plug any other electrical devices into the same outlet as the heater
Install smoke alarms on every floor of your home and outside all sleeping areas and test them once a month.
Place space heaters on level, flat surfaces. Never place heaters on cabinets, tables, furniture, or carpet, which can overheat and start a fire.
https://www.cbsnews.com/news/why-you-should-not-plug-space-heaters-into-power-strips-according-to-fire-departments/